Watch This Adorable Bodega Cat Getting Comfy In A Bed Of Pillowy Chip Bags
Imagine walking through your local corner store and seeing a paw jutting out of the chip bag racks. Realizing it's a cat lounging among the bags, you're immediately smitten and have to say hello. And then, the cat stretches out his paws to get comfy and impart greetings in that lazy way cats have so purrfected.  Oh, how adorable!!
A lucky bodega shopper had just that experience when a cutie pie tuxedo cat napping among the chip display stretched big and reached out to say hey.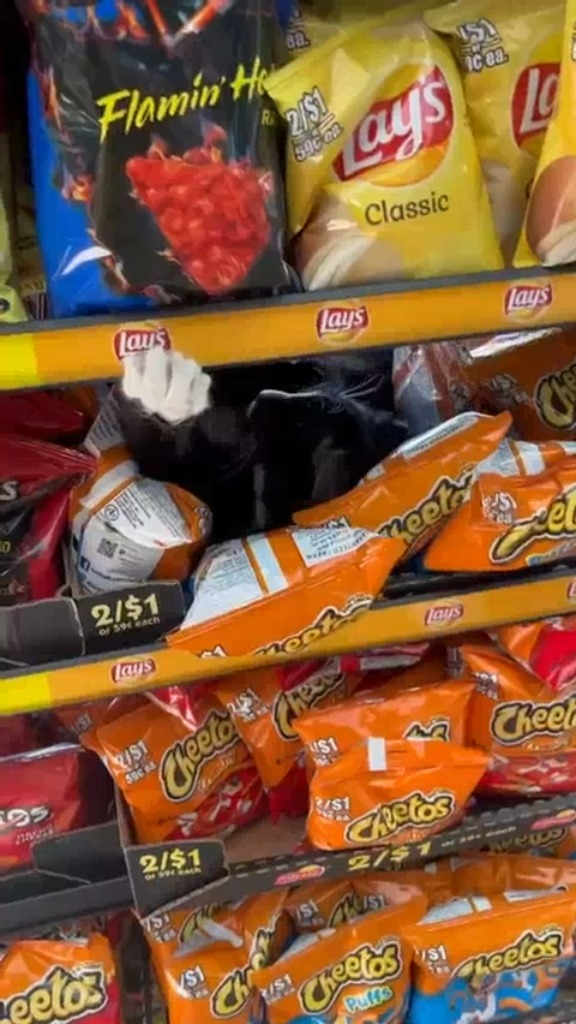 Lucky for us, the cat-loving shopper shared a video of the encounter. Mixing cuteness with #asmr fun, this funny cat video made its way to @bodegacats_ on TikTok, and now, almost 11 million people have enjoyed watching this bodega cat getting comfy among the chips!
Bodega Cat Hard at Work
If you've spent any time in New York City, you're familiar with bodegas. But if you've never had the opportunity to pop in one of these small shops, then Newsweek explains, "a bodega is a small, owner-operated convenience store that sells everyday essentials." These shops have been a commonplace feature of New York City since the mid-20th century when immigrants from Puerto Rico and the Caribbean founded the first of them. In fact, "the word bodega comes from the Spanish word for 'wine cellar' or 'grocery store.'"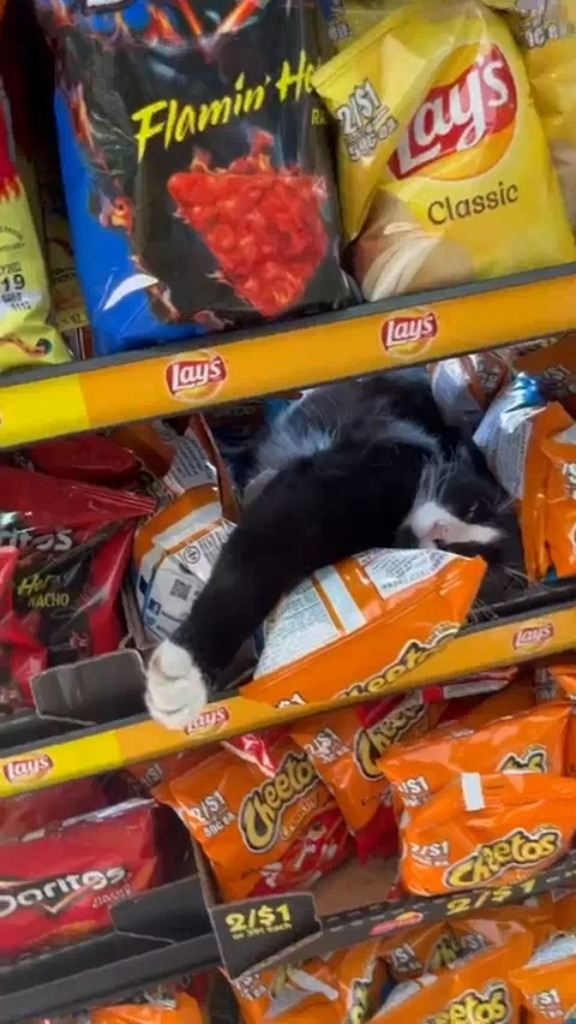 And because these small stores are located in a vast city and deal in food products, vermin can be a problem. But guess who loves exterminating creepy, crawly pests and looks adorable while doing the pouncing? That's right, cats!
Known as bodega cats, these felines help shop owners keep the place clear of rats and bugs while making customers' day with a cat encounter.
So, while this sleepy tux may look like he's on a break, he's actually hard at work keeping the store safe from icky vermin. Plus, he's earning overtime by making friends with the shoppers! Now, treat yourself to cuteness and watch this sleepy cat stretch among the chips.
This kitty isn't the only bodega cat captured on camera. Check out these hard-working shop cats, too!
The Best of the Bodega Cats
One TikTok user said, "This is the most cat thing I have ever seen."
Olaf likes screaming orders from his boxes.
View this post on Instagram
This spicy cat doesn't even realize he's got a price tag predicament!
Ah, chip bags. The purrfect pillows to nap upon!
Busted on a snack break!
This kitty takes cash register duty seriously.
Can I help you?
Hard at work.
This polite bodega cat thanks you for your patronage and asks that you come again!
There you have it, some of the hardest-working bodega cats you'll ever see. If you need more employed kitties, check out Cats With Jobs: No Freeloading Felines Here!
H/T: www.newsweek.com
Feature Image: @bodegacats_/TikTok
The post Watch This Adorable Bodega Cat Getting Comfy In A Bed Of Pillowy Chip Bags appeared first on iHeartCats.com.